Two abandoned Herne Bay properties decay as foreign owners fail to raise funds.
Two multimillion-dollar neighbouring waterfront sections in Auckland are falling into disrepair, with a house on one abandoned and decreasing in value and plans for what may have been the country's most expensive apartments on the other, being scrapped.
Plans by the previous owner for the two sections at 79 and 81 Sarsfield St, in Herne Bay, included knocking down the plaster home – a contrast to surrounding renovated villas and known for its big turret – and building eight multimillion-dollar boutique units across the two properties.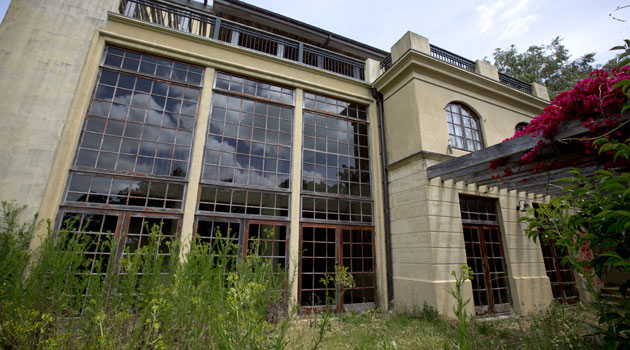 But the plans were abandoned because of a lack of funds. The current owners, businessmen Qiuyuan Yu and Xin Yu, who live in China, scaled the plans back to include four apartments on one section.
Again, the plans fell through because they could not get enough funding for the development, the real estate agent says.
The sections, in the country's most expensive suburb, have a combined value of $8.35 million and are now on the market for $10 million-plus.
The house at number 81, which was converted into two flats in 1964 and overlooks Sentinel Rd beach, is deteriorating rapidly – with an overgrown garden, leaves littering the paths and an unruly hedge bursting through a cracked concrete fence.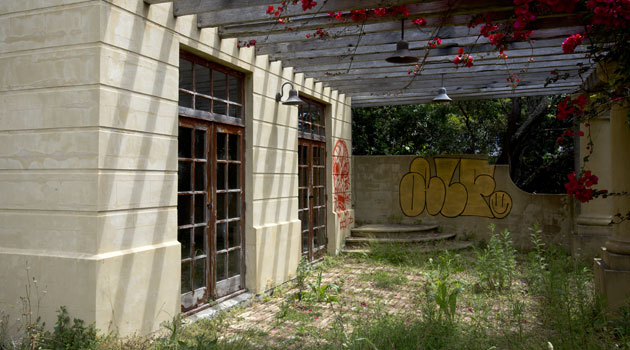 And although Herne Bay homes experienced an average increase in value of 25 per cent in the council's latest round of valuations, the house's capital value dropped 15 per cent from $5.2m in 2011 to $4.4m this year.
Its owners pay annual rates on the abandoned house for 2014 of $18,637.47.
The empty block of land at number 79 has increased in value from $3.5 million in 2011 to $3.95m this year, with annual rates of $11,916.86.
A Sentinel Rd neighbour called number 81 an "eyesore" and said it had recently been broken in to and occupied by squatters.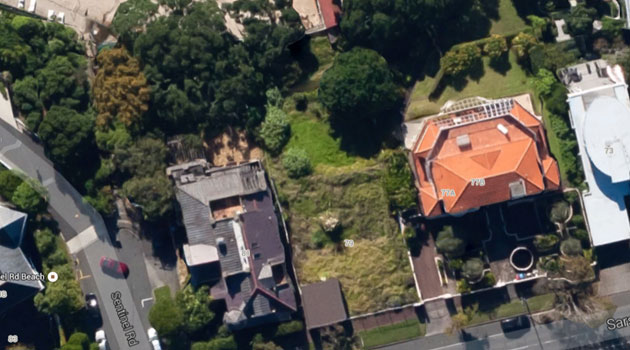 External walls were lined with graffiti, a smashed window was left unboarded, and an empty beer box was discarded beside the garden path.
The neighbour said he had paid for painters to go over some of the graffiti, but he worried someone would set the house alight.
He thought it had been disused since it was bought by the current owners about two years ago and though its former owners hadn't lived there either, they had kept it "tidy and occupied-looking".
The house had been used as a film studio by a previous owner in the 1990s.
Its next owner contracted Dr Robert Donald of Donald Design in 2012 to develop plans for a four-level building with eight apartments across the two sections.
"We did a detailed design proposal for it, for which we got consent," Dr Donald said.
But the plans had fallen through for lack of funds and the properties had been sold to the current owners, before falling into disrepair.
In April last year council consent was granted to build four single-level apartments, worth about $4 million each, at number 79.
Estate agent Gavin Han of Barfoot and Thompson said the owners couldn't raise enough money to go ahead with the development.
He said the property had been on the market for about three months and despite the hefty price tag, there had been a lot of interest.
He had been told by the owners not to pass on any information to the media.
Top spot
• 79 and 81 Sarsfield St, Herne Bay have a combined CV of $8.35 million.
• A house worth $4.4 million on the property has not been lived in for at least two years and has fallen into disrepair.
• The combined value of the properties had decreased 4 per cent from $8.7 million in 2011 to $8.35 million in 2014.
• The 2014/15 rates for the two properties is $30,554.33
• The section is zoned R7, with the potential to develop with multi-level apartments.
• The combined size of the sections, which stretch from Sarsfield St to Sentinel Rd Beach, is 1787sq m.
www.barfoot.co.nz/527583
Get more of real estate
Subscribe to our mailing list and get interesting real estate stuff updates to your email inbox.
Latest Price Performance of Indian Real Estate Companies Stocks